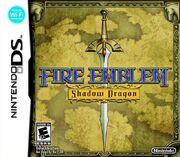 The challenge is to beat Normal Mode on Fire Emblem: Shadow Dragon with only basic weapons and Legendary Weapons. Jagen must be sacrificed. No weapon forging allowed. No hacks.
Weapons allowed:
Rapier
Iron Sword
Falchion (Real)
Falchion (Fake)
Mercurius
Wing Spear
Iron Lance
Javelin
Gradivius
Iron Axe
Hand Axe
Hatchuclere
Iron Bow
Parthia
Fire
Thunder
Starlight
Heal
Aum Staff
Items:
Vulnerary
Master Seal
Elysian Whip
Ad blocker interference detected!
Wikia is a free-to-use site that makes money from advertising. We have a modified experience for viewers using ad blockers

Wikia is not accessible if you've made further modifications. Remove the custom ad blocker rule(s) and the page will load as expected.