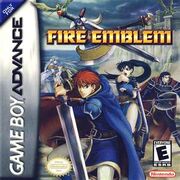 This is the First Fire Emblem Challenge on this Wiki! The Challenge is to beat Lyndis's Story on Easy with ONLY basic weapons and Items.
Weapons that are allowed to be used:
Iron Sword
Slim Sword
Emblem Blade
Mani Katti
Iron Axe
Emblem Axe
Iron Lance
Slim Lance
Emblem Lance
Iron Bow
Emblem Bow
Fire
Lightning
Flux
Heal
Items that are allowed to be used:
Vulnerary
Lockpick
Antitoxin
Knight Crest
Torch
Ad blocker interference detected!
Wikia is a free-to-use site that makes money from advertising. We have a modified experience for viewers using ad blockers

Wikia is not accessible if you've made further modifications. Remove the custom ad blocker rule(s) and the page will load as expected.